How to find an apartment in Taiwan (haunted or otherwise)
I arrived in Kaohsiung less than two weeks before Lunar New Year, so quickly finding an apartment was my primary focus…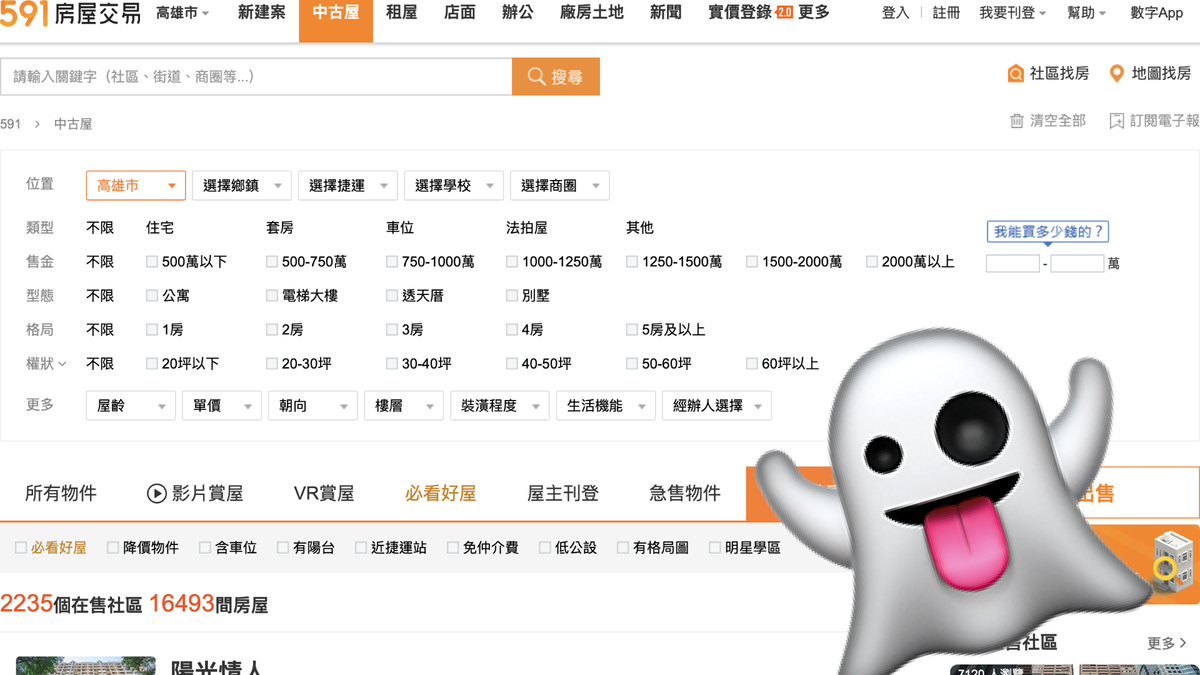 Much of Taiwan shuts down for 1–2 weeks over Lunar New Year—starting on 20 January in 2023. This became a hard deadline for me to secure an apartment, as otherwise I'd encounter surging accommodation costs while being unable to find somewhere for another fortnight.
(In fact, so much of Taiwan shuts down that Taipower has warned consumers to monitor appliances for overheating because voltage will spike when there's less demand on the grid.)
I'd repeatedly read that foreigners have trouble finding apartments in Taiwan. Landlords are hesitant because of communication and cultural issues, and the most popular website for apartment searching, 591.com.tw, is entirely in Chinese. (Browser-based translation is so-so at best.)
Furthermore, there's no way to know in advance whether a landlord speaks English, or whether they're open to foreign tenants.
Some foreigners resort to walking the streets looking for To Rent signs (in Chinese, not English), literally viewing dozens of apartments before finding an accepting landlord.
So, for all of these reasons, I decided to use a real estate agency.
The agent I worked with has been excellent. After I completed my application form, he called me to discuss my high-level requirements, then sent a shortlist of apartments for consideration.
On the first day I used the MRT to travel around Kaohsiung looking at suggested neighborhoods (one of my requirements was being close to a station).
I eliminated one neighborhood which had everything I'd asked for but somehow didn't feel right. And then, later in the day, I found a neighborhood I really liked.
I contacted my agent and we met that night to view the only shortlisted apartment in that area. I liked the building, and the apartment satisfied most of my requirements—but the lounge had no windows. (This is really common; I think it's to get away from the sun.)
We then went to a second apartment around 1km away. The agent rode there on his scooter and I followed in an Uber. As I arrived, he fist-pumped the air with joy after finding a scooter park almost right outside.
This second apartment, which he hadn't shortlisted earlier because it was 3% above my budget, was excellent in most other ways:
Location requirements
Relatively less air pollution
Walking distance to the MRT
Walking distance to a supermarket
Close to somewhere nice for daily walks (the harborfront I explored on my first day)
Close to convenience stores (these are critical public infrastructure in Taiwan—I'll write more about them in future)
Building requirements
Relatively new (for the best earthquake strengthening)
Receptionist/security guard (for receiving deliveries)
Garbage room (so I don't have to chase garbage trucks at night—I'll write more about this in future, too)
Apartment requirements
Furnished
Air conditioned
Insect screens on doors and windows
On a high floor (for less noise, better air quality, and fewer cockroaches)
A window in the lounge
A kitchen (many smaller apartments don't have one because it's cheaper to eat out)
A water filter (tap water's unsafe)
Good water pressure (often worse on high floors)
A workspace with a view (since I'll be working from home)
The only criteria it didn't satisfy were:
Not being south-facing (this apartment faces south-east, but according to PhotoPills I won't get any direct sun in summer)
Scooter parking (not an issue in the short-term, as I want to get a lot more comfortable in Taiwan traffic before getting my motorbike license)
After the viewing, I spent the evening exploring the surroundings before making a decision.
I enjoyed dinner and cross-cultural confusion at the local night market, and found one MRT station and three tram stations near by. The apartment's also within walking distance of IKEA and a Carrefour hypermarket, and close to two hospitals (for when I get my motorbike license…).
Negotiations begin
I told the agent I was keen, and he asked what benefits I wanted to negotiate with the landlord.
Coming from New Zealand—where it's increasingly difficult to find somewhere to rent—I had never negotiated a lease before. I asked my agent what he recommended, and he suggested:
A new pocket-spring mattress for the main bedroom
A professional deep clean
I also asked that a couple of furniture items be removed to make space for a home office.
The negotiations lasted a few rounds. The landlord wanted compensation for removing and storing the unwanted furniture, possibly in the form of a two-year lease (I wanted one year with right of renewal at the same price).
My agent excelled at negotiating, and I got everything I wanted: a one-year lease with new mattress, professional deep clean, excess furniture removed at no cost, and right of renewal.
I really lucked out with this agent. If you ever move to Kaohsiung, please contact me for his details.
The move-in date was negotiated to be Monday 16 January, a few days before Lunar New Year. I would pay my deposit on the preceding Thursday, sign the lease and receive the keys on Friday, then have the weekend to drop things off before officially moving in.
The landlord also pays a deposit
When I met the agent to pay my deposit—which was the agency fee of half a month's rent—he explained that if I backed out after signing the deposit but before signing the lease, I would forfeit that deposit. Fair enough.
Unexpectedly, the landlord also paid a deposit. If he backed out during the same period, he would lose twice as much—which would be paid to me as compensation.
Once again, I wasn't used to tenants having the upper hand.
If the house becomes a haunted house…
On Friday, we met at the apartment to sign the lease. When I arrived, there were two extra agents there. They were performing a thorough check on the doors and cupboards, furniture, electrical equipment, plumbing, and so on. Including putting new batteries in the many remotes.
Another tenant-focused approach I wasn't familiar with.
I paid the bond and signed the lease, which was in Chinese and English. I was intrigued by Article 10(2)A:

I asked the agent if he had any haunted houses on his books. He said yes, one, which had been vacant for three years. He said only Christians rent haunted houses(!).
Fortunately, my new apartment—which is just one year old—is not haunted.
I promised to keep it that way.
---